Sep 14, 2006
12 Comments ››
Ben DuPré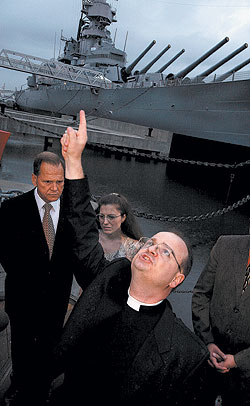 Chaplain Gordon J. Klingenschmitt was convicted yesterday (http://worldnetdaily NULL.com/news/article NULL.asp?ARTICLE_ID=51973)at a special court-martial for disobeying an order because he prayed in his Navy uniform at a press conference on March 30, 2006. Today the military jury recommended (http://msnbc NULL.msn NULL.com/id/14837533/) that he be punished with a letter of reprimand and a dock in his pay (suspended), although the recommendation must be approved by the Admiral in command. The Chaplain has vowed to appeal (http://www NULL.wdcmedia NULL.com/newsArticle NULL.php?ID=1860) all the way to the Supreme Court, if necessary.
(For background on the Chaplain's plight, see our earlier post here (http://morallaw NULL.org/blog/?p=40) and Judge Moore's column here (http://www NULL.worldnetdaily NULL.com/news/article NULL.asp?ARTICLE_ID=51844).)
The Trial
Judge Moore, Greg Jones, and I were at the court-martial in Norfolk, Virginia, where Judge Moore was prepared to testify in the Chaplain's defense. The trial began on Tuesday, Sept. 12, and the prosecution put on their case. They paraded out (http://www NULL.wvec NULL.com/sharedcontent/APStories/stories/D8K4A7AO0 NULL.html) the Chaplain's Captain and superior Chaplains in an attempt to besmirch Chaplain Klingenschmitt's character, criticize the performance of his duties, and brand him a "troublemaker." Other witnesses testified that they saw Chaplain Klingenschmitt in uniform at the press conference on March 30, but that all he did was pray and hand out a written statement by Rev. Rob Schenck. He even declined to give any comments when asked questions by the press.
When the prosecution rested, the Chaplain and his lawyer changed their tactic and decided not to call any of their own witnesses or present any more evidence. They felt the prosecution witnesses had adequately described the March 30 event and no more evidence was necessary to show that Chaplain Klingenschmitt had not disobeyed the order by his Captain. So neither Judge Moore nor anybody else testified in defense of the Chaplain.
The jury of five Navy officers deliberated for about 1 hour and 15 minutes, and came back with their disappointing verdict: guilty.
The sentencing hearing was then immediately held. Witnesses at this part included the Chaplain's wife, a former Air Force Colonel who was Klingenschmitt's superior when he was in the Air Force, and a former sailor who had overcome depression through counseling by the Chaplain. They all testified movingly about Chaplain Klingenschmitt's dedication to his wife, the Navy, and the Lord. It's a shame that Chaplains like Gordon Klingenschmitt, who are not afraid to express their faith or preach or pray in the name of Jesus, are receiving punishment instead of praise and promotion.
In the Chaplain's Wake
Chaplain Klingenschmitt is not the only chaplain in military service who desires to pray in the name of Jesus. There are most likely many evangelical chaplains watching this case closely to see how it affects them. What the Navy has done to Chaplain Klingenschmitt will have a ripple effect through the Navy and the other branches of the armed forces. Chaplains are now on notice that too much zeal for their faith is punishable and their freedom to pray is now severely curtailed.
The Navy's policy restricting prayers should be changed to allow chaplains the freedom to pray according to their conscience. If the Navy does not, then it is the Commander-in-Chief's duty to make it right and see to it that the religious freedom of America's military chaplains is fully protected.
(http://www

NULL

.addtoany

NULL

.com/share_save)